Test report Plustek film scanner OpticFilm 7200i
In September of 2005 Plustek introduced the long awaited new model for the almost identically named predecessor Plustek OpticFilm 7200. The essential change compared to the OpticFilm7200 is the added automatic dust- and scratch correction procedure ICE, which is standard for all good film scanners. The OpticFilm 7200i is an advancement of the OpticFilm 7200, but the sale of the old model will still continue.
We will not publish a detailed test report for the new Plustek OpticFilm 7200i, since the test result of the OpticFilm 7200 was too disappointing and there weren't really relevant changes in the new OpticFilm 7200i when compated to the predecessor model; the technical data is almost identical with the exception of the automatic dust and scratch correction procedure ICE. Except the adding of ICE dust correction there is one more change in the Plustek OpticFilm 7200i: The device is standardly delivered with the SilverFast SE version, but the device is, however for a surcharge, also available with the high-quality software SilverFast Ai (but without IT-8 calibration slide). For the predecessor Plustek OpticFilm 7200 we already published a detailed test report in the summer of 2004.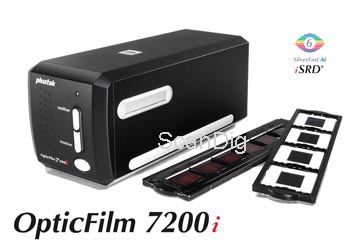 In a quick test we measured the resolution of the new Plustek OpticFilm 7200i. As result we determined an effective resolution of approximately 2700dpi with our test device. This figure is disappointing for a scanner with 7200 dpi nominal resolution and even lower than what we measured with the predecessor model OpticFilm 7200. These different resolution results could however turn out the other way around if using two other Plustek devices.
Plustek indicates in the technical data a maximum density of 3.3 for the new OpticFilm 7200i. This value is just about acceptable and suggests a density range (maximum density minus minimum density) of smaller than 3. ColorFoto published a measured density range of 2.8.
Important: The film scanner Plustek OpticFilm 7200i runs only on PC's with a Windows operating system, thus not with Apple computers. The company Quato developed a driver for Mac and sells an identically constructed device under the name Quato Intelli Scan 5000.